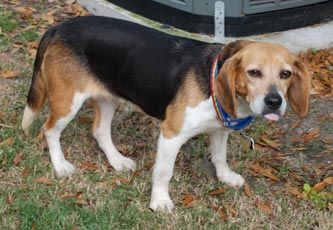 SOPHIE (Beagle)
Sophie was found as a stray on the panhandle of Florida and may have been a hunting dog, who was abandoned by her owner. She is about 18.5 pounds and 5 to 6 years old ( a youngster!).  She will be spayed and a dental before she goes out to a new home.
Sophie is not really a pack dog yet,  though she gets along fine with the other dogs. She craves a human all to herself and will sometimes get snarky with the other Bounders when she wants all of the attention, but we are working on that. She likes to curl up with you to sleep at night. Sudden noises will make her jump up, and she will cringe (as though she may have been hit) when we go to pick her up, but she is slowly learning to trust.
She would love a home of her own with a securely fenced yard and someone to show her the love and attention she has missed until now.